I partner with some companies (only the good ones!) that I think will be beneficial to my readers. If you purchase through my links, I'll get a small commission at no extra cost to you! To know more please read my disclaimer.
Passive income to others may be a source of money that doesn't come from employment.  While some look at it as an income stream that you can have while laying on the beach.
Whatever it is, we all can use a passive income stream!
I'm someone who has been thinking of a lot of different ways on how to achieve financial freedom, and I know for a fact that having passive income streams can greatly help me on my journey.
The way I look at passive income is that it still requires effort and work from the start. And once you've established it, it can give you a recurring income stream with minimal supervision.
The fourth richest man in the world once said: "If you don't find a way to make money while you sleep, you will work until you die. "
A bit scary but it comes with the truth.
So I've written up a post on the easy ways you can start building up your passive income today. They all takes work in the beginning but can be very useful in the long run 🙂
Again, passive income doesn't come out of nowhere, it all starts with hard work and patience! 
And if you're ready to grind, then continue reading below!
9 Online Passive Income Ideas In 2020
1. Write and sell an ebook
Yep! You read that right. A passive income that you can start right off the bat will be to write and sell an ebook.
Gone are the days that you need a degree to write a book. The internet has made a level playing field for everyone
If you're knowledgeable in a certain niche, and you think you can help hundreds of people, then why not consider writing an ebook about it?
Once you've finished and proofread it, it's time to sell it. There's a ton of websites where you can place your ebook for selling.
Personally, I love to read ebooks. It's convenient and it's good for the environment! When I'm reading an ebook, I can just find it on my phone or my other gadgets. Unlike a traditional book that takes a lot of space in your bag and it's quite heavy.
Remember an ebook doesn't have to be about business, marketing, or anything in that space. If you're into fictional stories, then you can write a fictional ebook!
If you want to learn more about how to do so, you can check out Hubspot's article here.
2. Make An Online Course
Again, if you're an expert on a certain field, you can make money off that too!
There are TONS of online courses out there. You'd be lucky if there are only a few that's been done in your niche. Plus, if you have a social media presence, then you can entice your followers to purchase your courses.
Make sure it's valuable and you've poured every information that you can on those courses. That's very important so that people won't think that you've ripped them off or scammed them.
I've been a victim of some online courses. What they taught was only surface-level and we (the buyers) were promised an in-depth lesson and step by step teaching. But it turns out they just taught general knowledge which was very disappointing.
Having good reviews of your courses leads to more people buying it! So make sure to dish out quality content and genuinely help people! 🙂
If you're new and not sure how to sell your course, why not start with Udemy? I know a lot of gurus have started selling their courses on Udemy before making it big.
3. Rent Out An Extra Space
Back when I was in college, I was lucky enough to have my place near the campus. During that time I was renting a house. It wasn't lavish or anything like that but it's enough for a student to live in.
So I rented out the available rooms in the house to students! The overall rent was relatively cheap compared to the other establishments. So I had the opportunity to make the price of the rooms a little bit cheaper as well.
When the rooms were being rented out, the rent money took care of itself. I wasn't paying any rent anymore and I was making extra cash from that rent money.
So when you're fortunate enough to have more space or even beds in your house, you can just rent it out as well.
You'd be surprised that people aren't always looking for a whole house to live in. Some just want a single unit or even just a bedroom.
This is a great passive income since it doesn't really require your everyday attention.
An additional idea that you can do is if you have an extra storage room. You can rent that out as well. I'm pretty sure there are a lot of tenants or people looking for a place to store their old belongings!
4. Rent Out Your Things
If you don't want to get rid of some belongings, you also have the option to let other people rent them.
For example, if you have a bike, you can let your neighbor rent that for a whole month. You got a spare laptop, a person in your apartment might be looking for one. 
If we want to have more passive income, we should be more creative in thinking of ways on how to have them!
5. Affiliate Marketing
I'm pretty sure you've stumbled on this term when you were searching for different ways on how to make money online.
Affiliate marketing is earning a commission when a person buys a product or service from your link or using your code…
It's a very popular marketing technique wherein it's a win-win for the company and the person who's affiliated to them.
The company gains exposure from the person's audience and the person gets a commission if someone buys using their referral.
I'm sure you've seen influencers on Youtube persuading you to buy a certain product and they give you a discount code. That my friend is what you call affiliate marketing!
I had no idea how affiliate marketing works before. I was wondering how I can utilize that marketing technique.
If you would like to know how I got started, and my #1 recommendation when it comes to affiliate marketing, you can read more here.
6. Write A Blog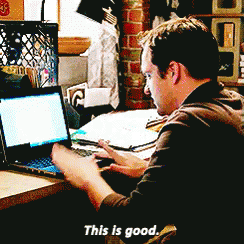 Basically anyone can start a blog nowadays. Whether you're a nurse or a teacher or a musician, someone is always interested in reading your experience or your passion. 
You can't be the only one who's passionate about what you love!  There are always people no matter how small a niche is.
One of my passions is writing. And I write about the things that I love! Not only that, but I also started a blog to document my journey. And you can too!
Other ways that a blog can earn is through reviewing certain products, displaying ads on your website, being a guest writer on other blogs, and from people who buy your service (if you're selling any).
My favorite way of making money on my blogs is through affiliate marketing!
But to be honest, it takes time and patience to really build an audience. Plus, it's not just about building an audience but it's also gaining their trust. So make sure you put your best interest in every blog post!
[convertkit form=1786540]
7. Start A Podcast
If you're not into writing but would like to still talk about what you love, you can start a podcast!
With a podcast, you can talk just about anything! There are tons of podcasts out there for different niches.
Since I love to write and my passion is blogging, I stuck with writing articles online. But your story can be different! You may have a great voice for audio! I personally listen to podcasts when I go to work and on my free time.
Although podcasts have been around for a long time, people are still listening to it. It's probably because of the convenience that it brings.  
Podcasts make money through advertisements. A company pays you to plug their product or service to your listeners!
Again getting sponsors or listeners doesn't happen overnight, it requires consistent effort to give out quality content to the people out there!
8. Invest In The Stock Market
One of the popular passive income streams would be investing in the stock market!
When I searched about where wealthy people get their money from, a common link among most of them is having an investment in the stock market. 
Most people invest in the stock market through an index fund because it tracks the movement of the biggest companies that are publicly traded. In the United States, they have the S&P 500 which is an index that follows the movement of the top 500 companies in the US stock market.
People choose to invest in an index fund for them to be diversified. They don't want the risk of being left out by other companies when they invest in only one company. When choosing an index fund make sure that it tracks the performance of the top publicly listed companies.
So for you to have access to an index fund or even just to invest in a single company, you can search for brokerages near you or an online broker and talk to them on how to open an account. 
For starters, you can take a look at Interactive Brokers, Trade Station, and TD Ameritrade. They are three of the most popular online brokers right now especially since they have $0 account minimum!
If you're not sure about what account type you should open, these brokers have their own pages to help you out!
Interactive Brokers – Configuring Your Account
Trade Station – Find The Right Account For You
TD Ameritrade – Choosing An Account
For a comprehensive review of the best online brokers right now, the guys from Stockbrokers.com gave out their list of the Best Online Brokers for 2020!
Remember that the best time to invest was yesterday, the next best time is TODAY!
Related: Top 10 Best Investing Books For Beginners To Read This 2020
9. Be A Youtuber
If you're fortunate enough to have a lot of followers on your Youtube account, then you can most definitely use your platform to advertise a business or a product!
You can ask a company that you really love and believe in and tell them about your channel statistics. Be specific when explaining to them. Talk about the average views you get for a month and the demographics of your viewers.
If you know your audience, the better it is!
If ladies follow you because of your makeup tutorials, then you can contact a cosmetic brand and make a deal with them! If your channel is about fashion, then you can link up with an online store that sells clothes! 
Other than making money off affiliate marketing on Youtube, Youtubers also make money from ads that Youtube puts in their videos. So no matter how old a video is, as long as people are viewing it, it will produce a recurring income for the Youtuber.
Just Do It!
While reading the whole post, I'm sure you've already thought about ways on how you can make a passive income!
The thinking part is nice, but what's more important is the action. You don't want to be stuck in analysis paralysis mode. 
For some people, the more they think about it the more their minds convince them that it's hard or maybe they should just start tomorrow. I'm telling you right now to just do it! All you need to do is just start! 🙂
So which one are you going to start first? 🙂