I partner with some companies (only the good ones!) that I think will be beneficial to my readers. If you purchase through my links, I'll get a small commission at no extra cost to you! To know more please read my disclaimer.
I still remember those times when I was in college looking all dorky being late to class almost every day (I'm not a morning person) and thought that I was the most matured, had-figured-out-everything-about-life person I know lol.
Isn't that the funniest thing.
Funny how I have always felt that I had the most money back when I was in college, not when I'm actually earning a fixed income.
Maybe because I didn't have all of the bills to pay and all these adulting responsibilities.
Sometimes I do wish I could get a pass from adulting…
But anyway! When I was in college, and even before that actually, I've always been looking for some side hustles to make extra money.
After I had graduated from high school, I just wanted to have extra money to buy stuff I don't need, so I started working as a store promoter at a nearby shopping mall and my friends would come and visit me at work.
Those were the days..
Then when I got to college, I became a lil bit more creative in terms of finding ways to earn money that doesn't necessarily require me to be working the whole day and can give me some sort of flexibility.
So as always, I'll try to write something on my blog based on my experience.
I'm going to share with you guys some of the ways on how to make money on the side in college that I've tried back before, to give you some ideas on how you can also make side income while still attend your classes.
Let's start with the first one.
Related: 12 (Tested) Ways To Make Money From Home In 2020
7 (Proven) Ways On How To Make Money On The Side In College
1. Virtual Assistant/ Social Media Manager
I have written about this on my last post as well (Read: Ways To Earn Money From Home In 2020) on becoming a virtual assistant if you're still in college. I have worked with a company before being their virtual assistant in sourcing some local data. You could be doing something similar, or something different.
A virtual assistant can be anything. You can help someone organize their days, emails, do some administrative work, or even handle their social media platforms.
The reason why I think this would suit college students the most is that first, you will learn about organizational skills and learning new online tools that might come handy once you start working.
Second, it doesn't require many hours. I think the most I've seen is about 10 hours/week. You can also negotiate with the client on how many hours you can offer.
There are a few ways you could do to get started. Either building a website to showcase your service or simply create a Facebook page.
I would recommend just setting up a Facebook page. You don't need to be investing in a website right now.
Just showcase what you will be offering and how you can help other businesses. You can also start with an Instagram Page. Any that suits you the most.
Here are 3 easy ways you can start getting clients;-
Ask people around you: Yes, your mum, your whole family, friends, coffee shop owners, your school's administration office. Just go there and ask whether they would be needing any administrative help that needs to be done online, or you can also offer social media management services.
Facebook groups: There are so many Facebook groups you can join and find job opportunities. it's quite competitive, but there are always businesses that'd be needing a virtual assistant to help them. So don't be shy!
Upwork: I actually started on Upwork. It's fine as well to search here but they tend to pay lower. I would suggest you trying the above 2 methods first before going to Upwork. But if you do want to give Upwork a try, you can read here on how to get clients on Upwork fast!
Related: 10 Best Freelance Platforms To Hire And Find Work In 2020
2. Driving For Uber/Delivery Service
I have done this just before I graduated from college.
At that time, Uber was a very up and coming venture in town and more people are using Uber. So Uber was aggressively recruiting drivers and promising quite lucrative payment. I'm not so sure about now as I've heard that the payment structure hasn't been very competitive as of lately.
But, it won't hurt to check them out.
I had a car already when I was in college so I just thought why not. But this was usually done only when I had extra time.
If you do have a car, feel free to try it out. But I would suggest to do it only after your classes for a few hours a day. Put a limit on how long you will be driving Uber per week so you will still have time to study!
Another way if you don't wanna be fetching people is to work as a delivery service provider. It's quite popular as well as a lot of people just want to have the convenience of having their birthday cakes or laundry delivered to them.
Similar to Uber, you can just start doing this when you have the time after class.
If you would like to get started, you can sign up as an Uber driver here or you can sign up as a Postmates driver here.
If you don't have a car, don't worry, there are always other things you can still do!
3. Mystery Shopper
Funnily enough, I actually got a lot of other work offers when I started driving for Uber and met a lot of wonderful riders!
I was offered a babysitting gig by one of the riders cause he likes my English accent and he wanted me to just start conversing with his son. Weird but okay.
Another offer that I'd gotten was to be a mystery shopper!
I was sending this lady to her apartment and we just started chatting. She was asking me whether I'd be interested to become a mystery shopper for her company – and I didn't say no!
I was helping her with this gig until she actually gave me a project of my own.
So instead of being the mystery shopper, she actually gave me a project of handling the mystery shopping itself. And I made a lot more money just by recruiting mystery shoppers all around the country.
Mystery Shopper gig: $100/visit – I have to go and do the visit myself
Mystery Shopper project: $200/visit X 100visits – I paid $80 to the shoppers and kept $120 for myself 🙂
At the end of the project, I've earned $12,000 just like that.
Did I mention that I did mystery shopping for Louis Vuitton, Christian Dior, Aigner, Peugeot, and many more luxury brands? Sipping champagne while mystery shopping is a good pampering session too, you know.
If you don't know where to look, you can check out this website: Bestmark
Moral of the story – always be optimistic and always say yes to opportunities! You'll never know what lies ahead.
4. Freelancing (Makeup Artist!)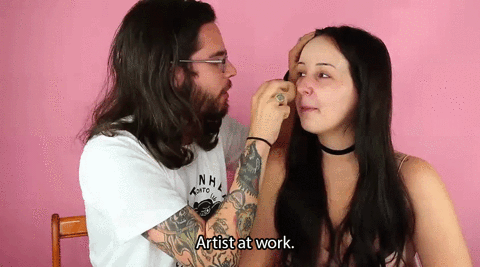 I was…yes, a makeup artist.
I enrolled in a makeup artistry class but I have never really made it as a full-time career (also because I thought the habit of buying makeup will never end, and it didn't match the minimalist lifestyle I'm trying to adopt).
But yes, I was promoting my makeup services to people who would be needing a service. You'll be surprised at how many people actually need this service. Weddings, engagements, dinners, parties, dance, halloween..a, lot.
I promoted my services on my social media pages and also told everyone I know about my services. They were happy to share my posts and referred people whom they know would be needing my expert skills :p
If you're a makeup artist (or maybe a photographer too), one thing you could do is to be tied with a wedding planner. Usually, wedding planners already keep a list of contacts for every different thing, including makeup artists.
You can just ask them whether you can be a part of their team so that the wedding planners can contact you whenever they have clients.
But I do understand not everyone wants to be a makeup artist or interested in this industry. So let's go to the next one!
5. Store/Brand Promoter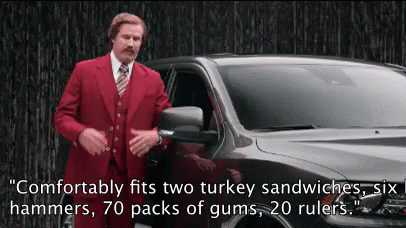 As I've mentioned before, I was working as a shop promoter after I've graduated from high school. But it was for long hours, like, the whole day.
So obviously, it won't be suitable for you to do when you're in college.
But, there's something else that's pretty much similar that you could be doing with fewer hours or during the weekends. And I've done this for sooo many events! And for many different industries.
Some of them are just jobs working as promoters in grocery stores, where you'll be handing out samples or testers to shoppers. It's not luxurious but you can actually choose the days where you'll be able to work. It also usually pays more to be compared with being a permanent store promoter.
I earned about $150/day doing this.
Another kind of promoting that you could be doing is something that's a lil bit more luxurious than handing out samples – working for big companies events.
I have mainly worked with real estate developers where they usually throw big events to launch their new projects where they will be expecting a lot of turnouts from potential buyers. For these kinda big events, they will usually hire an event company and they would need extra headcounts to do more customer service works like registering customers and making sure the customers know where to go during the events, etc.
These events are usually being held on the weekend – so it's perfect for you! You'll probably work for the whole day but you can easily make $250/day.
You can start by asking local event companies whether they would be needing this kinda help for their future events with their clients. And if they do, they can certainly contact you 😉
Or if you're not sure where to start, you can try these websites (here or here) and see whether there are any job openings that suit you.
6. Blogging!
Is this even a surprise? But yes, B LO G G I N G !
I've been blogging ever since I was in high school – though I had never monetized my blogs before.
So when I knew I could monetize it, I wasn't sure why I have been doing the other methods of earning money… This would definitely become my #1 recommendation to you!
One of the main reasons why is that you can build your own authority/base by then. You will have people that follow you and your journey.
Just imagine if you wanna build your own store after you graduate. Don't you think you're gonna have your first customer to be one of the people that has actually been following your blog?
Let's say you're doing a blog on how to become a master at graphic designs (maybe you're a graphic design student and you're basically journaling the things you learn in class) and after you graduate, you wanna start freelancing. To offer graphic design services to businesses.
If someone has been following your blog, it's not a surprise if they wanna hire you. Cause they've been following your journey and you have already created trust with them.
And once you blog, you will have a better understanding of the digital marketing side of things. A lot of companies actually value those skills. No matter what industry you're in. It's an additional skill and at this time right now, where we're dealing with a pandemic issue, having digital marketing skills can not do you any wrong.
Your blog will be your portfolio. If you're going to be in digital marketing, you will get to showcase the SEO works you've done and many more to companies and increase the chance of getting hired.
And since the monetization of your blog can be for the long term, it's a very sustainable way of earning an income in college and beyond. $2,000 income/month is pretty normal for bloggers. You know that, right?
If you wanna know more about how to start, read my post here on how to learn how to blog as well as to monetize with affiliate marketing.
7. Build An E-Commerce Store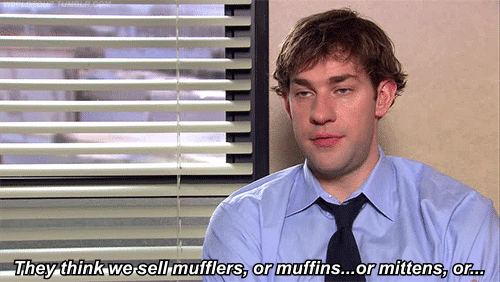 I have built my own e-commerce store before and did dropshipping. You can read my post here whether dropshipping is for you or not.
But anyway, I was toying around the idea of selling something before but to be honest, I was a lil bit immature back then and wasn't really sure what exactly I should and wanna be selling.
So if you want to go down this route, I would really encourage you to start selling something that you are passionate about or really good at making.
You can also start by offering your service/product on Etsy first jus to get yourself comfortable and have a rapport with your business.
If you want to have someone to brainstorm on this, feel free to comment down below and I'll get back at ya!
The Important Part: Start Now
There are tons of ways you can do to make money when you're still in college.
The world is your oyster! This is when you can try and test different things having a fear of failing. You don't have anything to lose, trust me.
One of the things that you need to have in mind is to always be optimistic. I've landed a lot of different gigs just because I kept an open mind and said yes to different opportunities. So never stop exploring and making connections!
No matter how small or stupid other people might think of YOUR way of making money in college, don't listen to them and just give it a go. Unless you wanna rob a bank, then no.
You just gotta start, and now is better than ever.
What other ways have you done to earn income when you're in college? Share in the comment so everyone can also get inspired!